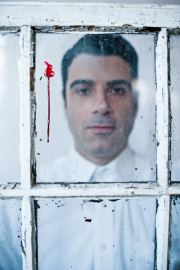 Written and directed by Adam Lazarus
Co-created and performed by Phil Luzi
Lighting design by Michelle Ramsay
Set and blood design by Gillian Gallow
As part of the 33rd annual Rhubarb festival
Meet Norman Shore. Most days Norman is fine, but today he is not. Today, something about Norman is off. Today, he didn't go to work. Today he stayed at home. Now he is beginning to bleed.
www.buddiesinbadtimes.com/show.cfm?id=857
THE RHUBARB FESTIVAL
Feb 8 – 19, 2012
Buddies in Bad Times Theatre
Wed – Sun, Evening Pass $20
Sunday Afternoons, PWYC
One-to-One Performances, PWYC
Mobile Works, FREE
Box Office             416-975-8555
buddiesinbadtimes.com
This production could not have been made possible without the generous support of the Ontario Arts Council and the Toronto Arts Council.